When I was a child, it was quite a fun thing on a summer's day to visit Margate Lido. My dad had an early morning newspaper stand outside it for several years, and sometimes I'd be with him on a Saturday morning (mum worked part-time at the Green Shield shop) and we'd go to the lido after he finished selling his papers.
In the UK, a lido is an outdoor swimming pool with individual changing rooms arranged around and facing on to the pool, often with seating around it, and sometimes with a café or somewhere else to buy a cup of tea and an ice cream. Here's
a picture of a lido from the BBC
; this is Pontypridd Ynysangharad park lido.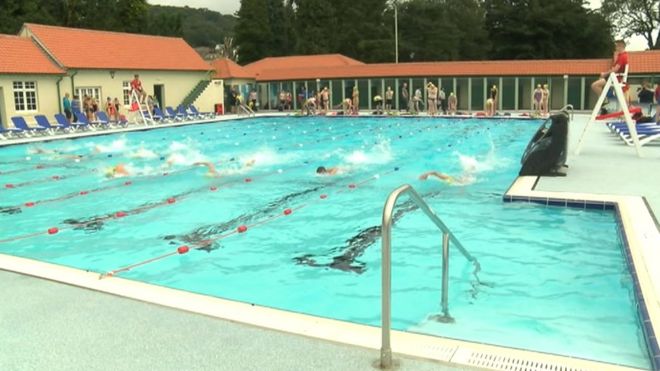 While most people visit lidos in the summer, they are also popular with cold-weather swimmers (I haven't ever been one of those - brrrrr!).
There has been discussion in Reading recently about the future of
the lido at King's Meadow
, originally built in 1902, and to be renamed "Thames Lido" when it re-opens. This sparked some interest from the local BBC radio station, BBC Berkshire, about how the word "lido" should be pronounced. Is it "lee-doh" or "lye-doh"?
As far as I am concerned, if it's an open-air swimming pool in the UK, it's a "lye-doh". This is how my dad said it and, when people talk about other lidos in the UK, I have never heard them called "lee-dohs" (one of my friends commented on Facebook that she couldn't imagine anyone calling Tooting lido anything other than "lye-doh"). However, a significant number of my friends say "lee-doh", the one in Venice is definitely a "lee-doh" ... and if you're American, it seems, "lee-doh" is the only possibility - check this clip from
Legally Blonde
(OK, I realise that's a sample of one).
For information, the
Cambridge English Pronouncing Dictionary
- which I co-edit - gives /ˈliːdəʊ/ as the first variant, followed by /ˈlaɪdəʊ/. I'm clearly not following my own pronunciation here.
So why the difference?
Lido
is an Italian word which we have borrowed into English, as with so many other words which help us to express a multi-word concept ("out-door swimming pool", in this case) with one word. English is fine about borrowing in other words as long as there is a gap to fill. Think about all the different types of coffee servings we've borrowed from Italian; it's so much easier to ask for a cappuccino than for a very strong coffee with frothed milk on the top. The Italian pronunciation of
lido
is more like "lee-doh" and, if you have traveled extensively and/or know Romance languages like French or Italian and do not know of, or do not frequent, open-air swimming pools in the UK, you are unlikely to know and/or use the "lye-doh" variant. A friend also commented that, if you know the band Roxy Music, you may also say "lee-doh", as it appears in the song
Do The Strand
, in which it is (partially) rhymed with
incognito
(at 2:50 in the YouTube video below).
Not every town has a lido - weather good enough for open-air swimming is not
that
common in the UK - and the people who originally used lidos tended to be those who could not afford holidays abroad. Such people were more likely 1) not to have come into contact with the word abroad and 2) to pronounce it "lye-doh" based on English spelling rules, i.e., if there is a vowel followed by a single consonant followed by another vowel, the first vowel "says its name", in this case, /aɪ/. But they could also have been calling it a "lye-doh" because their peer group did that. The fact that my dad said "lye-doh" and I have this pronunciation for the UK ones is an indicator of my social background, i.e., we were working class.